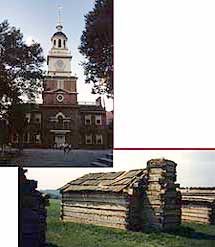 Nicholas, his brother Adam, and sons John and Jacob served in the Revolutionary War. Nicholas and Adam being landholders served as Captains in the Pennsylvania Line. John Altstatt served in the Pennsylvania Line as a private. John's Revolutionary War pension records show that he camped with Washington at the Valley Forge (left) and fought in many battles including the taking of the Hessians at Trenton.
Nicholas Altstatt
(Alstott) came with his parents, Martin and Judith Altstatt to America in 1729, and settled in Berks County, Pennsylvania in 1734. The Altstatts included Squire Boone and Mordecai Lincoln as neighbors. William Boone, uncle of Daniel Boone, signed with
Martin Altstatt
on various legal contracts. The Boones and Lincolns were Quakers, while the Altstatt's were members of the Reform Church.
Martin Altstatt and Nicholas Alstott were naturalized at Philadelphia in the State House in 1760 (pictured left above). Judith Altstatt is buried in the old Knabb Cemetery off Limekiln Road near Reading, Pennsylvania.

The Nicholas Alstott (1727) Line through the 6th Generation from Johann Caspar Altstadt (1673)

.............. 3 Johann Nicholas Alstott, Apr.27,1727 - c.May 1784
.................. + Catherine - - - - - - -, (remarried Christopher Howard (Hower))
...................... 4 John Altstatt, Jan.16,1755 - Dec.31,1837
.......................... + Margaret Williams, c.1762 - Feb.20,1845
.............................. 5 Robert Altstatt, Jan.16,1784 - c. 1862
.................................. + Sarah Nancy Long, Feb.12, 1793 - c. 1850
...................................... 6 Margaret Alstott, 1814 - (lineage inferred)
........................................... + Dudley Ferris, (inferred)
...................................... 6 Josephine Alstott, 1815 - (lineage inferred)
........................................... + Thomas L. Oliver, (inferred)
...................................... 6 William Alstott, 1816 - (lineage inferred)
...................................... 6 Elizabeth Alstott, Dec.15,1818 - Sep.27,1907
........................................... + Joseph Baldwin,
...................................... 6 Richard Alstott, 1824 - (lineage inferred)
...................................... 6 Mary Frances Alstott, 1826 -
........................................... + 1 Joseph Robertson, ? - c.1850
........................................... + 2 Elijah Henthorn, May 15,1803 - Sep.3,1896
...................................... 6 Nancy Alstott, Feb.1829 - c. 1902
........................................... + William Pettit, Dec.23,1828 - Dec.19,1912
...................................... 6 Anne Alstott, 1835 -
........................................... + 1 Thomas Johnson,
........................................... + 2 John Kinney,
...................................... 6 Isaac Newton Altstatt, Mar.31,1837 - Dec.5,1909
........................................... + 1 Margaret K. - - - - - - ,
........................................... + 2 Caroline Bath, Apr.2,1847 - Mar.2,1922
...................................... 6 Alice Alstott, 1847 -
.............................. 5 Jacob Alstott, Feb.18,1786 - c.1846
.................................. + Anna Barnaby,
...................................... 6 Lucinda Alstott, Dec.8,1828 - Oct.17,1913
........................................... + David Allen Apple, Dec.11,1824 - Jan.13,1900
.............................. 5 Elizabeth Alstott, Jan.4,1788 - Nov.2,1817 (Died in childbirth)
.................................. + Benjamin White,
...................................... 6 (Child) White, Nov.2,1817 -
.............................. 5 John Alstott, Feb.16,1789 - Apr.1858
.................................. + Margaret Long, Sep.12,1795 - c.1863
...................................... 6 Elizabeth Alstott, Nov.20,1816 - Dec.28,1900
........................................... + Mathias Meeker, Jul.31,1804 - Apr.27,1876
...................................... 6 Margaret Alstott, 1819 -
........................................... + Horatio Smith,
...................................... 6 William Alstott, Aug.28,1821- Jul.6,1897
........................................... + 1 Denisa Myers,
........................................... + 2 Sarah Houghlan, Aug.8,1817 - Jan.2,1904
...................................... 6 (Male) Alstott, c.1824 -
...................................... 6 Thomas J. Alstott, Nov.1,1826 - May 14,1903
........................................... + Lydia Ann Johnson, Oct.24,1824 - Feb.2,1869
...................................... 6 Joseph Alstott, 1831 - c.1900
........................................... + Rhoda Ann Long, 1835 -
...................................... 6 Mathias Alstott, May 18,1835 - Feb.5,1893
........................................... + 1 Sarah Thomas, May 23,1832- Nov.7,1871
........................................... + 2 Elizabeth Cox, 1837 -
...................................... 6 Martin Luther Alstot, Jun.21,1839 - Feb.7,1910
........................................... + Elizabeth Harmon, Feb.9,1839 - Mar.5,1923
.............................. 5 Daniel Alstott, Dec.15,1791 - c. 1839
.................................. + Sarah Campbell, c. 1805 -
...................................... 6 John Alstott, Jun.1831 - Feb.2,1906
........................................... + Frances J. Bryam, Feb.1844 - Aug.27,1916
...................................... 6 Robert Alstott, 1835 -
........................................... + Elizabeth Frances Hodson, c.1841 - ?
...................................... 6 Margaret Alstott, 1839 -
.............................. 5 Nicholas Alstott, Nov.28,1793 - May 2,1814 (Died in War of 1812)
.............................. 5 Reese Allstot, Oct. 14, 1795 - c.1853
.................................. + Elizabeth Evilsizer, c.1796 - c.1825
...................................... 6 William A. Allstot, Mar.1817 - Sep.7,1901
........................................... + 1 Elizabeth Campbell, c.1817 - Aug.16,1845
........................................... + 2 Lavinia Lane (Laine), Jul.1826 -
.............................. 5 William Alstott, 1801 - Feb. 1849
.................................. + Nancy Covert, 1808 - c. 1858,
...................................... 6 Aaron Alstott, 1824 - (lineage inferred)
...................................... 6 John Alstott, 1826 - (lineage inferred)
...................................... 6 Margaret Alstott, 1827 -
........................................... + John Cowling,
...................................... 6 Elizabeth Alstott, 1828 -
........................................... + William Hartman,
...................................... 6 Lucas Alstott, 1833 - c. 1885
........................................... + Martha Jane Pennington, 1841 -
...................................... 6 Martha Alstott, 1834 -
........................................... + Charles Tingen (Kriger),
...................................... 6 Josephine Alstott, 1837 -
........................................... + Joshua Handspice (Handskien),
...................................... 6 William H. Alstott, 1843 - (lineage inferred)
...................................... 6 Orra J. Alstott, 1846 - (lineage inferred)
........................................... + Jeremiah Murphy (Murray),
...................................... 6 Jacob A. Alstott (Alstatt), Feb.1847 - c. 1915
........................................... + Pauline Allstot, 1845 - Jan.28,1917
.............................. 5 Thomas Altstatt, 1808 - c.1849
.................................. + Mary Covert, Mar.17,1804 - May 1875
...................................... 6 Rachael Alstott, 1827 - c.1889
........................................... + Emanuel Crook (?),
...................................... 6 Margaret E. Alstott, Feb.1829 - May 1875
........................................... + James Cargile, 1822 - 1870
...................................... 6 Sarah Jane Alstott, 1828 -
........................................... + George Franklin Williams, ? - 1869
...................................... 6 Indiana Altstatt, 1831 - c.1889
........................................... + Edward Davis,
...................................... 6 John Warner Altstatt, Jan.1,1832 - Sep.30,1909
........................................... + 1 Nancy M. Taylor, 1840 - (remarried: Fermin Bird Harrison)
........................................... + 2 Teressa Elizabeth Wright, Sep.25,1858 - Jan.14,1940
...................................... 6 Thomas Franklin Altstatt, Jan.6,1834 - Mar.2,1908
........................................... + 1 Martha Scott, c.1837 - Nov.1853
........................................... + 2 Sarah Williams, May 30,1843 - Dec.1,1901
...................................... 6 Daniel Stuthman Altstatt, Oct.5,1840 - c. 1902
........................................... + Mary Elizabeth Jones, Sep.6,1846 -
...................................... 6 America Altstatt, c. 1842 -
.............................. 5 Joseph Alstott, 1810 - Jan.22,1865
.................................. + Jane Campbell, 1809 -
...................................... 6 (Son) Alstott, c.1832 -
...................................... 6 Reese Alstott, 1833 - c.1925
........................................... + Florence - - - - - -, 1858 -
...................................... 6 Mathias Alstott, 1833 - c.1925
........................................... + 1 Josephine - - - - - -,
........................................... + 2 Sarah - - - - - - -,
...................................... 6 William Alstott, Oct.1835 - 1857
......................Twin to.....6 John Wesley Allstott, Oct.1835 - Aug.22,1907
........................................... + Hannah Elizabeth Love, Mar.1851 - Oct.1918
...................................... 6 Emaline Alstott, 1839 -
........................................... + John Smith,
...................................... 6 Sarah Jane Alstott, 1841 -
........................................... + Francis M. Williams,
...................... 4 Susanna Alstadt, Feb.12,1757 - Oct.10,1822
.......................... + John Frederick Bertolet, Aug.2,1752 - Dec.21,1803
.............................. 5 Susanna Bertolet, b./d. Dec.8,1775
.............................. 5 Esther Bertolet, Apr.8,1777 - May 12, 1829
.................................. + John Lorah, May 4,1769 - Nov.15,1838
...................................... 6 Sarah Lorah, Mar.31,1800 - Dec.7,1896
........................................... + 1 - - - - - - Youse, c.1796 -
........................................... + 2 Johannes Babb, Apr.10,1804 - Feb.12, 1885
...................................... 6 John Bertolet Lorah, Aug.4,1801- Mar.l7,1879
........................................... + Elizabeth Huff, c.1803 -
...................................... 6 Elizabeth Ann Lorah, May 20,1805 - Nov.1,1832
........................................... + Isaac Burnett, c.1801 - 1860
...................................... 6 Esther Maria Lorah, Mar.14,1807 - Apr.28,1809
...................................... 6 Catherine Lorah, 1810 -
........................................... + Thomas Kelley, c.1806 -
...................................... 6 George W. Lorah, Apr.18,1815 - Jul.2, 1863
........................................... + Eliza P. Fox, Jul.27, 1824 -
.............................. 5 Moses Bertolet, b./d. Jan.31,1780
.............................. 5 Elizabeth Bertolet, Nov.18,1781- Feb.28,1859
.................................. + Abraham Knabb,
...................................... 6 John Knabb,
...................................... 6 David Knabb,
...................................... 6 Amos Knabb,
...................................... 6 Samuel Knabb,
...................................... 6 Susanna Knabb,
........................................... + Jacob Herbein,
...................................... 6 Mary Knabb, (Died young)
...................................... 6 Esther Knabb,
........................................... + Henry N Lee,
...................................... 6 Hannah Knabb,
...................................... 6 Henrietta Knabb,
........................................... + John Ritter,
.............................. 5 Sarah Judith Bertolet, May 27,1783 - Sep.28,1864
.............................. 5 John A. Bertolet, Sep.18,1785 - Apr.13,1856
.................................. + 1 Catharine Kline, ? - Oct.19,1837
.................................. + 2 - - - - - Michaels,
...................................... 6 John Kline Bertolet ,1, Nov.11,1807 - Jan.31,1891
........................................... + Mary Sherer,
...................................... 6 Sarah Bertolet,1,
...................................... 6 Susanna Kline Bertolet,1, Mar.22,1810 - Feb.28,1875
........................................... + Ezekiel M. Rhoads,
...................................... 6 Harriet Bertolet ,1,
........................................... + Jeremiah High,
...................................... 6 Lousetta Bertolet ,1,
...................................... 6 Jemima Bertolet ,1, Aug.28,1814 - Sep.26,1892
........................................... + Peter Cleaver,
...................................... 6 Louisa Bertolet ,1, Aug.3,1826 - Sep.6,1843
...................................... 6 Amos W Bertolet ,1, 1829 - 1865
........................................... + Matilda S. Potts,
...................................... 6 Ann Bertolet,1,
........................................... + Solomon High,
...................................... 6 Esther Josephine Bertolet ,2, Apr.28,1839 - Jan.14,1866
........................................... + William Griesemer,
...................................... 6 Catharine Bertolet,2, Mar.30,1843 -
........................................... + 1 Cyrus Melot,
........................................... + 2 William Griesemer, (widower of Esther Bertolet Griesemer)
...................................... 6 Daniel Michaels Bertolet,2, Feb.26,1846 - Aug.8,1901
........................................... + Hettie High,
.............................. 5 Daniel Alstadt Bertolet, Sep.25,1788 - Sep.24,1837
.............................. 5 Catherine Bertolet, Dec.11,1792 - Aug.19,1867
.................................. + 1 John Mattis,
.................................. + 2 - - - - - - - Reinhardt,
.................................. + 3 Mathias Ratz,
...................................... 6 Hannah Mattis, 29 Oct.29,1818 - Mar.15,1853
........................................... + Jacob Bertolet,
...................................... 6 Catharine Mattis,
...................................... 6 John Mattis,
...................................... 6 Sarah Mattis,
........................................... + - - - - Jones,
...................................... 6 Mary Mattis,
........................................... + - - - - Druchmiller,
...................................... 6 Ephraim Reinhardt,
...................................... 6 Oliver Reinhardt,
...................................... 6 Reuben Reinhardt,
.............................. 5 Amos Bertolet, Nov.7,1790 - Jan.29,1829
.................................. + Leah High,
...................... 4 Jacob Allstot, c.1759 - c.1815
.......................... + 1 - - - - - - -,
.......................... + 2 Mary Williams, c.1770 - c.1808
.............................. 5 Catherine Allstot,1, c.1784 -
.................................. + John Southers,
.............................. 5 John Bartlett Allstot,2, 1790 - 1853
.................................. + 1 - - - - - - ,
.................................. + 2 Mary Osborn Jakeman, c.1785 - c.1850 (widow of Vincent Jakeman)
.................................. + 3 Nancy Covert Alstott, 1808 - c.1858 (widow of William Alstott, 1801 - 1849)
...................................... 6 Crow J. Allstot,1, c.1814 - (lineage inferred)
...................................... 6 Elizabeth Allstot,1, c.1816 - (lineage inferred)
...................................... 6 Josephine Alstott,1, c.1818 - (lineage inferred)
...................................... 6 Parker H. Allstott,1, 1820 - (lineage inferred)
........................................... + 1 Mary Jane Campbell, ? - c. 1851
........................................... + 2 Rebecca Pennington, ? - 1857
........................................... + 3 Mary Knowland,
...................................... 6 Anthony L. Allstott,1, May 11,1821 - Nov.4,1895
........................................... + Zerilda Allen, Jun.10,1826 - Dec.5,1908
...................................... 6 William Allstott,1, Apr.9,1822 -
........................................... + Mary - - - -, 1820 - Dec.11,1897
...................................... 6 Reason Allstott,*, Aug.27,1824 - Apr.10,1899 (alias Reastine Cox)
.....................................................................................*son by Delilah Heath Cox
........................................... + Mary Bowsher, Jan.19,1832 - Jun.30,1901
...................................... 6 (Daughter) Allstott,1, c.1828 -
...................................... 6 John Allstott,1, 1830 -
...................................... 6 Mary Allstott,1, 1834 -
...................................... 6 Nicholas Allstott,1, 1835 - 1865
.............................. 5 William Alstot,2, 1792 - d. c.1858
.................................. + Elizabeth Benson, Sep.12,1795 - c.1863
...................................... 6 Martin L. Alstot, 1816 - Feb.7,1910
...................................... 6 Edward Tiffen Alstot, Aug.14,1826 - 1874
........................................... + Lucy Jane Meyerhoeffer, Feb.21,1827 - Mar.16,1895
...................................... 6 (Son) Alstot, c.1827 -
...................................... 6 (Son) Alstot, c.1829 -
........................................... + Martha - - - - - , 1835 -
.............................. 5 Elizabeth Allstot,2, 1793 -
.................................. + Elijah Hawkins,
.............................. 5 Jacob Allstot,2, c.1798 -
.............................. 5 George Washington Alstott,2, 1801 - Jan.3,1885
.................................. + 1 Margaret Coombs,
.................................. + 2 Nancy Ann Norton, Sep.21,1810 - Mar.25,1905
...................................... 6 Edward C. Allstot,1, 1825 - Aug.18,1880
........................................... + 1 Susan Ann Smith, 1827 - 1860
........................................... + 2 Mary Daffie Doty, (Remarried: Levi Thompson)
...................................... 6 Mary Jane Allstot,1, c.1829 -
........................................... + Harvey Smith,
...................................... 6 William Marion Alstott,1, Feb.15,1834 - Feb.27,1915
........................................... + Leah Ann O'Neal, Oct.11,1841 - Feb.7,1880
...................................... 6 Susanah Alstott,2, 1836 -
...................................... 6 Catherine Alstott,2, 1838 -
........................................... + S.V. Snodgrass,
...................................... 6 John W. Allstot,2, Apr.16,1839 -
........................................... + 1 Mary Jane Stone, c.1840 - Aug.23,1884
........................................... + 2 Sarah A. Logan Browning, Jan.1840 - Mar.15,1919
...................................... 6 Sarah M. Alstott,2, 1841 -
........................................... + August Schoenthal,
...................................... 6 George Washington Allstot, Jr.,2, Jan.1843 - Jan.4,1897
........................................... + Clarissa C. Burris, Jun.1865 -
...................................... 6 James Harvey Allstot,2, Nov.1846 -
........................................... + Anna E. - - - - , Jan.1855 -
...................................... 6 Hannah M. Allstot,2, Aug.14,1849 - May 1,1929
........................................... + David Hendricks, Feb.13,1838 -
...................................... 6 Melinda E. Allstot,2, Mar.22,1854 -
........................................... + George B. Hendricks, Aug.1842 -
...................................... 6 Albert S. Allstot,2, Jun.13,1855 - May 18,1916
........................................... + Matilda Kline, May 7,1860 - Feb.29,1920
...................................... 6 Robert Allstot,2, b./d. c.1862 (died as a child)
...................... 4 Daniel Alstott, c.1765 - c.1806
.......................... + Mary (Polly) Devers, c.1775 - c.1840 (remarried Charles Carter)
.............................. 5 Elizabeth Alstott, c.1796 -
.................................. + Martin Mason,
.............................. 5 Mary Margaret (Polly) Alstott, c.1798 -
.................................. + William Cabell,
...................................... 6 Susan S. Cabell,
........................................... + Abraham B. Lee,
...................................... 6 Mary Ann Cabell, 1826 -
........................................... + Dallas Rowe,
...................................... 6 John Breckinridge Cabell, 1831 -
........................................... + 1 Matilda Beldon,
........................................... + 2 Frances Dodd,
...................................... 6 Sarah A. Cabell, 1834 -
........................................... + James Crowdus,
.............................. 5 John Alstott (Allstott), Sep.4,1803 - Jun.25,1862
.................................. + Mariah Overstreet, 1810 -
...................................... 6 Lucinda Alstott, c.1828 -
...................................... 6 Mary Ann Alstott, 1830 - 1878
........................................... + 1 Alan Wash,
........................................... + 2 - - - Ward,
...................................... 6 Daniel Boone Alstott, Jun.21,1832 - Dec.26,1915
........................................... + 1 Elizabeth Bryant, ? - 1864
........................................... + 2 Mary L. Wash, 1846 - 1937
...................................... 6 Susan Alstott, 1834 - 1878
........................................... + 1 Allen Wash,
........................................... + 2 - - - - - - - Ward,
...................................... 6 James Fletcher Alstott, Sep.1839 -
........................................... + Malvina Moore, May 1843 -
...................................... 6 Elizabeth Alstott, 1842 -
...................................... 6 Dennelia Alstott, 1844 -
...................................... 6 George Johnston Alstott, Apr.1846 - c. 1900
........................................... + Nancy Bell Johnson, Apr.1841 -
...................................... 6 Martha J. Alstott, 1848 -
...................................... 6 William B. Alstott, 1849 - c. 1899
........................................... + Nannie E. McCain, May 1851 -
.............................. 5 (Daughter) Alstott, c.1805 -
...................... 4 Mary Alstadt, Aug.18,1773 - Dec.24,1858
.......................... + John Depoe,
NEXT PAGE ............................ PREVIOUS PAGE.................................Back to Charts