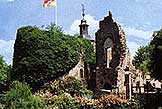 Johann Caspar Altstadt
was a tailor in the town of Dreieichenhain, Hessen
(pictured left)
, at the turn of the 17th Century.
His oldest son, Johann Martin Altstatt, was the first immigrant Altstatt to come to America. Martin was a blacksmith. He had moved from Dreieichenhain to Freinsheim, Pfalz, and married Anna Judith Walter before coming to America with his Walter inlaws and youngest son, Johann Nicholas Altstatt (Alstott).
The Alstatt's landed at Philadelphia on August 29,1729, and settled in Berks County, Pennsylvania in 1734.

First Four Generations of the Johann Caspar Altstadt (1673)

1 Johann Caspar Altstadt, May 1673-Dec.20,1742
... +Anna Elisabetha Riegel, Aug.1679- Oct.11,1742
...... 2 Johann Martin Altstatt, Jan.1699- c.1769
.......... + Anna Judith Walter, Sep.22,1703 - Jan.17,1766
.............. 3 Johann Nicholas Alstott, Apr.27,1727- c.May 1783
.................. + Catherine - - - - - - , (remarried Christopher Howard (Hower))
...................... 4 John Altstatt, Jan.16,1755 - Dec.31,1837
.......................... + Margaret Williams, c.1762 - Feb.20,1845
...................... 4 Susanna Alstadt, Feb.12,1757 - Oct.10,1822
.......................... + John Bertolet, Aug.2,1752 - Dec.21,1803
...................... 4 Jacob Allstot, c.1759-c.1815
.......................... + 1. - - - - - - - -,
.......................... + 2. Mary Williams, c.1770-c.1808
...................... 4 Daniel Alstott, c.1765-c.1806
.......................... + Mary (Polly) Devers, c.1775-c.1840 (remarried Charles Carter)
...................... 4 Mary Alstadt, Aug.18,1773 - Dec.24,1858
.......................... + John Depoe,
.............. 3 Barbara Margareth Alstadt, c.1730 -
.................. + Rudolph Härdi,
.............. 3 Peter Alstadt, c.1734 - Sep.1769 - Saddler
.................. + Maria Sarah Derst, (remarried Jacob Moyer (Meier))
...................... 4 Johannes S. Alstadt, 1768 - Sep.1850 (Also includes Aldstadt lines)
.......................... + 1 - - - - - - - -,
.......................... + 2 Hannah Marsteller, 1785 - Aug.22,1859
...................... 4 Elizabeth Alstadt, 1769 -
.......................... + 1 - - - - - - - -,
.............. 3 Adam Alstadt (Allstadt), c. 1740-c.1807
.................. + Eva Rosina - - - - - - -,
...................... 4 Eve Margaretta Alstadt, Apr.30,1762 - Dec.24,1851
.......................... + Johannes Soder (Sauter) (widower of Catherine Alstadt (1742))
...................... 4 Jacob Allstadt, Jun.1763 - Jul.21,1821
.......................... + Elizabeth Hall Potts, Nov.19,1776 - Oct.30,1851
...................... 4 John N. Allstadt, 1764 -
.......................... + Elizabeth - - - - - - -,
...................... 4 Daniel Allstadt, 1768 - Feb.5,1825
.......................... + 1 Susan Garnhart, Nov.1,1788 - Jan.3,1815
.......................... + 2 Barbara Lomsucker,
...................... 4 Adam Alstadt, Jr, 1771 - 1798
.......................... + Sarah Gehr,
...................... 4 Isaac Allstadt, c.1772 - (lineage inferred)
...................... 4 Susanna Alstadt, c. 1777 - c. 1861
.......................... + Daniel McPherson, c.1775 - c.1844
...................... 4 Frederick Alstadt, c. 1778 - (lineage inferred)
.......................... + Elizabeth Scholtt,
.............. 3 Catherine Alstadt, 1742 - c.1780
.................. + Johannes Soder (Sauter), 1740- Mar.27,1817
...................... 4 John Soder, Jr.,
...................... 4 Bartbara Soder, Dec.21,1770 - Oct.21,1823
.......................... + Peter Noecker
...................... 4 Daniel Soder,
...................... 4 Jacob Soder,
...................... 4 Samuel Soder,
...................... 4 Margaret Soder,
.......................... + John Haas
...................... 4 Mary Soder,
.......................... + Jacob Zardman
...................... 4 (daughter) Soder,
...................... 4 (daughter) Soder,
.............. 3 Elizabeth Alstadt, c.1745 - Sep.1793
...... 2 Anna Elisabetha Altstadt, Sep.1701 - Jan.30,1752
.......... + Johann Adam Betz, May 28,1708 - Apr.10,1761
.............. 3 Johann Nicholas Betz, Sep.28,1737 -
.............. 3 Eva Margaretha Elisabetha Betz, May 21,1739 -
.............. 3 Johannes Betz, Dec.6,1741- c.1759
.............. 3 Christina Philippina Betz, Feb.27,1743 - Sep.26,1744
.............. 3 Anna Elisabetha Betz, Aug.20,1747 - Jul.24,1748
.............. 3 Johann Christian Betz, May 4,1753 -
.............. 3 Johann Adam Betz, Nov.9,1754 -
...... 2 Anna Dorothea Altsadt, Sep.1704 - Oct.1704
...... 2 Johann Nicholas Altstadt, May 1706 - Apr.15,1761
.......... + Johanetta Elisabetha Weber,
.............. 3 Anna Ottilia Altstadt, Feb.25,1732 - Jul.3,1790
.............. 3 Anna Elisabeth Altstadt, Aug.29,1733 - Jun.29,1798
.............. 3 Maria Margaretha Altstadt, Dec.2,1735 -
.............. 3 Johann Balthasar Altstadt, Sep.22,1738 - Oct.2,1738
...... 2 Maria Altstadt, Apr.1709 - May 23,1713
...... 2 Anna Catharina Altstadt, Apr.1711 - Jan.10,1782
.......... + Johannes Röll, Feb.13,1707 - Jul.26,1794
.............. 3 Christina Röll, Mar.23,1744- Apr.17,1774
.............. 3 Anna Catharina Röll, Jan.29,1747 - Feb.2,1805
.............. 3 Phillip Heinrich Röll, Jan.7,1750 - May 20,1750
.............. 3 Johanna Maria Margretha Röll, Dec.31,1753 -
.............. 3 Johann Conrad Röll, Dec.14,1757
...... 2 Johannes Altstadt, Mar.10,1715-
.......... + Anna Maria Catharina - - - - - - -,
.............. 3 Johann Nickolaüs Altstadt, Oct.30,1750 -
.............. 3 Johann Ludwig Altstadt, Apr.5,1752 -
.............. 3 Johannes Altstadt, Feb.1,1754 -
.............. 3 Frederich Altstadt, Aug.6,1756 - Oct.12,1756
.............. 3 Johann Wilhelm Altstadt, Mar.13,1758 -
...... 2 Eva Margretha Elisabetha Altstadt, May 2,1718 - May 3,1772
.......... + Johann Caspar Philippi, Mar.31,1719 - Apr.26,1772
.............. 3 Anna Christina Philippi, Jun.29,1743 - Jul.20,1743
.............. 3 Johanna Juliana Philippi, Jun.30,1744 -
.............. 3 Johannes Philippi, Dec.18,1746 - May 9,1749
.............. 3 Johann Adam Philippi, Apr.6,1749 -
.............. 3 Anna Christina Philippi, Nov.30,1751 - 1790
.............. 3 Ludwig Christian Philippi, Aug.25,1754 -
.............. 3 Johann Thomas Phiulippi, Jul.10,1757 - Jul.12,1757
...... 2 Anna Christina Altstadt, May 24,1729 -
.......... + Johann Heinrich Henning,
.............. 3 Maria Magdalena Phillipina Henning, Jul.10,1748 -
.............. 3 Johann Conrad Henning, Feb.1751 -
.............. 3 Susanna Henning, Apr.8,1753 -
.............. 3 Frederich Ludwig Henning, Feb.9,1756 - Oct.7,1757
.............. 3 Susanna Maria Henning, Aug.16,1758 -
.............. 3 Johann Thomas Henning, Sep.16,1760 - Oct.7,1760
.............. 3 Johannes Henning, Feb.2,1764 - Feb.22,1771

1 Johannes Altstadt, (Brother of Johann Caspar Altstadt)
NEXT PAGE ........................... . PREVIOUS PAGE