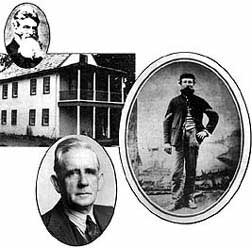 Adam Alstadt was a farmer and landlord. He bought his father's 150 acres of land in 1762, and expanded it upwards of 1,100 acres by 1780. He served in the Pennsylvania Line during the Revolutionary War as a Captain.
His sons, Jacob Allstadt, John N. Allstadt and Daniel Allstadt moved to Berkeley County, Virginia (later Jefferson County, West Virginia), around 1794 and settled just south of Harpers Ferry. The "Allstadt" spelling was adopted by these families after the turn of the 19th century.
probably born nine children.
along with the Allstadt slaves were among the hostages taken by John Brown's raiders to the Harpers Ferry Armory on October 17, 1859. John Thomas served in the Confederate Army in the 1st Virginia Infantry. John N. Allstadt's grandsons,
George K. Alstadt
,
Harrison Alstadt
and
John H. Alstadt
, though born in Shenandoah County, Virginia, served in the Union Army in the Ohio Infantry.
(Pictured - top left, John Brown above the Allstadt plantation house, below house: Ira C. Allstadt, a son of John Thomas Allstadt, in uniform: George K. Alstadt, a grandson of John N. Allstadt)
Adam Alstadt was a grandson of Johann Caspar Altstadt. Adam Alstadt's father, Johann Martin Altstatt had come to America in 1729, and settled in Berks County, Pennsylvania in 1734. Adam was born around 1840. He married Eva Rosina (?) around 1761, in Berks County, PA, and to this union was
John Hall Allstadt (Jacob Allstadt's oldest son) and John's son, John Thomas Allstadt,
The Adam Alstadt (c.1740) Line through Eve (1762), Jacob (1763), John N. (1764), Julia (c.1765), Daniel (1768), Adam Alstadt, Jr. (1771), Isaac (c.1772), Susanna (c.1777), and Frederick (c.1778) Alstadt

.............. 3 Adam Alstadt (Allstadt), c. 1740 - c.1807
.................. + Eva Rosina - - - - - - ,

...................... 4 Eve Margaretta Alstadt, Apr.30,1762 - Dec.24,1851
.......................... + John Soder (Sauter), (remarried Catherine Alstadt (1742) See her chart)
...................... 4 Jacob Allstadt, Jun.1763 - Jul.21,1821
.......................... + Elizabeth Hall Potts, Nov.19,1776 - Oct.30,1851
..................................................................(Widow of John Potts, child: Mary Potts)
.............................. 5 Thomas Adam Allstadt, Jul.31,1807 - Sep.7,1822
.............................. 5 John Hall Allstadt, Jun.16,1809 - Nov.23,1888
.................................. + Mary Ann Gardner, Jun.10,1815 - May12,1891
...................................... 6 Sarah Elizabeth Allstadt, Jan.22,1838 - Mar.25,1862
........................................... + Henry Clay Cromwell, 1829 - Oct.1864
............................................... 7 Frank Allstadt Cromwell, 1857 - Oct.12,1927
.................................................... + Emma J. - - - - - - -, 1868 - 1947
....................................................... 8 Mildred Cromwell,
........................................................... + - - - - - - Cranford,
....................................................... 8 Reva Cromwell,
........................................................... + - - - - - - Simmons,
............................................... 7 Fannie Cromwell, Mar.21,1859 - Dec.27,1933
.................................................... + George Beall Lynch,
....................................................... 8 Elizabeth Lynch,
............................................... 7 Oliver W. Cromwell, Mar.10,1862 - Oct.5,1862 (died as an infant)
...................................... 6 Jacob Francis Allstadt, Jun.1,1840 - Oct.5,1847
...................................... 6 John Thomas (Tuck) Allstadt, Aug.24,1841 - Nov.2,1923
........................................... + Annie Elizabeth Cockrell, Apr.1847 - 1914
............................................... 7 Elizabeth (Lizzie) Allstadt, May 24,1870 - May 30,1961
.................................................... + William John Finley, Jun.27,1872 - Oct.13,1956
....................................................... 8 Estella Louise Finley, Dec.26,1894 - Sep.8,1988
........................................................... + Bernard Edwin Ragland, 1894 - 1963
............................................................... 9 Judge Edwin F. Ragland, 1920 -
.................................................................... + Wilma J. Squires,
....................................................................... 10 Lee F. Ragland, 1945 -
....................................................................... 10 Terry L. Ragland, 1954 -
............................................................................ + Earnest R. Goodheart, Jr.
................................................................................11 Tracy E. Goodheart, 1978 -
................................................................................11 Johnathan R. Goodheart, 1982 -
............................................................... 9 Judge William L. Ragland, 1923 -
.................................................................... + Martha B. Brewer,
....................................................................... 10 Jane A. Ragland, 1952 -
............................................................................ + 1 Bruce White,
............................................................................ + 2 Robert H. Lance, Jr.,
................................................................................11 Leah J. White-Ragland, 1979 -
....................................................................... 10 Judy L. Ragland, 1956 -
............................................................................ + Andrew R. Falls,
................................................................................11 Andrew W. Falls, 1986 -
................................................................................11 Martha R. Falls, 1990 -
....................................................................... 10 William J. Ragland, 1961 -
............................................................................ + Sharon A. McDaniel,
................................................................................11 Rachel E. Ragland, 1993 -
............................................................... 9 Betty V. Ragland, 1928 -
.................................................................... + Robert A. Mansur,
....................................................................... 10 Susan V. Mansur,1954 -
............................................................................ + Frederick M. Bock,
................................................................................11 Stephen M. Bock, 1980 -
....................................................................... 10 Linda L. Mansur, 1958 -
............................................................................ + James Grinstead,
....................................................... 8 Howard A. Finley, 1897 - 1900
....................................................... 8 Virginia Finley, 1903 - Jun.13,1989
........................................................... + Joe Lewis,
............................................................... 9 W. Hayes Lewis, 1928 - 1972
....................................................... 8 York Benjamin Finley, 1906 - 1984
........................................................... + Virginia Younger,
............................................................... 9 Brenda K. Finley, (1950)
............................................................... 9 Peggy L. Finley, 1954 -
.................................................................... + Robert L. Ruester, 1951 -
....................................................................... 10 Franklin J. Ruester, 1981 -
....................................................................... 10 Leslie K. Ruester, 1986 -
....................................................... 8 Hayes Louis Finley, Oct.19, 1909 -
........................................................... + Dorothy Nannenkamp, Mar.24,1910 -
............................................................... 9 Michael H. Finley, 1952 -
.................................................................... + Sharon Leighton, 1953 -
....................................................................... 10 Scott H. Finley, 1980 -
....................................................................... 10 Rachelle R. Finley, 1981 -
....................................................... 8 Elizabeth Muriel Finley, 1913 - May 8,1990
........................................................... + Irvin Chumbler, 1897 - 1974
............................................................... 9 Mary M. Chumbler, 1940 -
.................................................................... + 1 Robert J. Dempsey,
.................................................................... + 2 Dr. Halsey W. Miller, PhD,
....................................................................... 10 James E. Dempsey, 1961 -
....................................................................... 10 John A. Dempsey, 1968 -
............................................................... 9 Janie J. Chumbler, 1943 -
.................................................................... + 1 Raymond Hoppe,
.................................................................... + 2 Gary Sollers,
....................................................................... 10 Bruno L. Hoppe, 19631 -
....................................................................... 10 Noel I. Hoppe, 1968 -
............................................................... 9 Irvin N. Chumbler, Jr., 1945 -
.................................................................... + Annie Clifford,
....................................................................... 10 Andrew N. Chumbler, 1973 -
....................................................................... 10 Brian I. Chumbler, 1975 -
....................................................................... 10 Heather A. Chumbler, 1977 -
............................................... 7 Castilina (Cassie) Allstadt, 1873 - 1958
.................................................... + Emory Elder, Jun.27,1872 - Oct.13,1956
............................................... 7 Ira Charles Allstadt, Jan.9,1875 - Sep.1965
.................................................... + Mary Belle Smith, 1882 - Nov.1911
....................................................... 8 Anna Belle Allstadt, Dec.15,1903 - Dec.1976
........................................................... + - - - - - - Vaughn,
............................................................... 9 John R. Vaughn,
....................................................... 8 Ira Charles Allstadt,II, Dec.31,1905 - Jul.17,1970
........................................................... + Evelyn Holdway, Feb.16,1920 - Dec.23,2013
............................................................... 9 Ira Charles Allstadt,III, May 3,1949 -
.................................................................... + Claire Hastie, Oct.27,1949 -
....................................................................... 10 Ira Charles Allstadt,IV, May 16,1975 -
.......................................................................... + Marjorie Nicole Esteridge,
............................................................................ 11 Skylar Paige Allstadt, May1,2008
............................................................................ 11 Lucas Cole Allstadt, Aug.25,2011 -
....................................................................... 10 Sara Darrington Allstadt, Dec.20,1976 -
............................................................... 9 John Hall Allstadt,III, Jul.20,1951 -
.................................................................... + 1 Madelon Ann Jacobs, Jan.27,1950 -
..................................................................................................(remarried Charles Gill)
.................................................................... + 2 Bette - - - - - - -, Jun.5,1950 - Mar.15,1996
....................................................................... 10 Erin LaShay Allstadt,1, Feb.14,1974 -
............................................................... 9 Merri Evelyn Allstadt, Mar.1,1958 -
.................................................................... + 1 Bryan Johnston,
.................................................................... + 2 Mark Chester,
....................................................................... 10 Nicholas Ian Chester, Aug.10,1993 -
....................................................... 8 Malcomb B. (John) Allstadt, Nov.6,1909 - Feb.1976
........................................................... + 1 Nelwin - - - - - - -,
........................................................... + 2 Emma - - - - - - , Oct.19,1911 - Oct.1992
........................................................... + 3 Jackie - - - - - - -,
....................................................... 8 Dorothy Allstadt, Apr.6,1909 - Sep.17,1992
........................................................... + Joseph Walter Pinner, Jun.2,1904 - Sep.16,1990
............................................................... 9 Joseph Walter Pinner,Jr., Jun.6,1950 -
.................................................................... + Sharon Philpott,
....................................................................... 10 Thomas E. Pinner, 1975 -
....................................................................... 10 Daniel M. Pinner, 1976 -
....................................................................... 10 Megan A. Pinner, 1982 -
............................................... 7 Lutie M. Allstadt, May 28,1881 - Jan.24,1905
............................................... 7 John Hall Allstadt,II, Jun.20,1887 - Oct.3,1955
.................................................... + Ludie H. - - - - - - -, Mar.19,1889 - Feb.26,1982
...................................... 6 Harriet Russell Allstadt, Jul.29,1843 - Feb.7,1866
...................................... 6 Isaac Gardner Allstadt, Jun.6,1847 - Jan.14,1850
...................................... 6 Hannah Frances Allstadt, Jul.29,1851 - Feb.19,1854
...................................... 6 Mary Robbins (Mammia) Allstadt, Jul.19,1853 - Jan.30,1940
........................................... + Benjamin Franklin Moler, Nov.24,1851 - Feb.7,1934
............................................... 7 Harry Lee Moler, Jun.13,1874 - Jan.18,1958
.................................................... + Lenora M. Gore, Jul.30,1877 - Sep.15,1968
....................................................... 8 Richard Lee Moler, Jul.23,1905 - Apr.29,1907
....................................................... 8 Mildred (Titzi) Moler, Jun.6,1907 - Feb.4,1985
............................................... 7 Sudie Geneva Moler, Jun.11,1876 - Apr.25,1957
.................................................... + Robert S. Stifler, 1876 - Oct.3,1938
....................................................... 8 Mary Belle Stifler, Jun.17,1900 - Nov.19,1989
........................................................... + John Wilber VanDoran, Dec.23,1901 - Jul.7,1973
............................................................... 9 John W. VanDoran,Jr., 1927 -
.................................................................... + Helen Carney (?),
....................................................................... 10 John VanDoran,
............................................................................ + Marie - - - - - ,
................................................................................11 Stephen VanDoran,
............................................................... 9 Robert S. VanDoran, 1929 -
.................................................................... + Phyllis - - - - - - -,
....................................................................... 10 Michael VanDoran,
............................................................................ + Kathleen - - - - - ,
....................................................... 8 Edythe Pentz Stifler, Nov.3,1903 - Mar.5,1984
........................................................... + Gustaf A. Swanson, Dec.6,1899 - Oct.30,1984
............................................................... 9 Thomas G. Swanson, 1930 - 1948
....................................................... 8 Robert Carter Stifler, Oct.31,1908 -
........................................................... + Margaret Curtis,
............................................................... 9 Margaret C. Stifler,
.................................................................... + Frank Ball,
....................................................... 8 Gailey Hunter Stifler, Aug.22,1914 - Dec.28,1982
........................................................... + Anna A. - - - - - - -,
....................................................... 8 Geneva R. Stifler, 1905 - Feb.16,1921
............................................... 7 Bessie Mae Moler, May 1,1878 - Apr.25,1967
.................................................... + 1 Clarence G. Watson,
.................................................... + 2 Patrick T. Costello,
....................................................... 8 Louise A. Watson, Nov.17,1901 - Dec.9,1970
........................................................... + Lewis D. Nichols, Jan.2,1893 - Jan.9,1981
............................................................... 9 Natalie Nichols, Apr.27,1924 -
................................................................. + Richard Dean Hill, May 27,1922 - Oct.25,2016
.................................................................... + Richard Dean Hill, May 27,1922 -
....................................................................... 10 Laura L. Hill, 1949 -
....................................................................... 10 Richard D. Hill, Jr., 1951 -
............................................................................ + Cynthia Caroll, 1964 -
................................................................................11 Rachel Hill, 1986 -
................................................................................11 Sarah Hill, 1987 -
................................................................................11 R. Dean Hill,III, 1989 -
................................................................................11 Paul K. Hill, 1994-
................................................................................11 Olivia D. N. Hill, 1996-
....................................................................... 10 Lewis D. Hill, 1955 -
............................................................................ + Jennifer Dix, 1958 -
............................................................... 9 Mary L. Nichols, Jun.3,1925 -
.................................................................... + Stanley C. Dalton, Octg.10,1925 -
....................................................................... 10 John N. Dalton, 1950 -
....................................................................... 10 Mary C. Dalton, 1952 -
....................................................................... 10 Jill R. Dalton, 1954 -
....................................................................... 10 Jen Dalton, (1957)
....................................................................... 10 Lucy A. Dalton, 1959 -
............................................................................ + Robert H. Lackie, 1958 -
................................................................................11 Kathryn L. Lackie, 1986 -
................................................................................11 David R. Lackie, 1989 -
............................................................... 9 Elizabeth D. Nichols, Aug.7,1927 -Mar.21,2008
.................................................................... + 1 Joseph A. Ruczko, Jul.5,1926 -
....................................................................... 10 Pamela D. Ruczko, 1953 -
............................................................................ + 1 James M. Walters,
............................................................................ + 2 W. Kim Blakeman,
................................................................................11 Michael Walters, 1979 -
....................................................................... 10 Scott D. Ruczko, 1956 -
............................................................................ + 1 Nancy A. Volksen,
....................................................... 8 Evelyn Deborah Watson, Apr.12,1899 - Apr.8,1986
........................................................... + Frank R. Lake, May 21,1886 -
............................................................... 9 Constance E. Lake,
.................................................................... + William Birr,
....................................................................... 10 Constance A. Birr,
............................................................................ + 1 - - - - - - Bishop,
............................................................................ + 2 - - - - - Smith,
....................................................................... 10 Gloria A. Birr,
............................................................................ + Charles Fyock,
................................................................................11 Stephen Fyock,
................................................................................11 Jeffrey Fyock,

NEXT PAGE.................................PREVIOUS PAGE