S
tarting around the year 1000 AD to 1155/70 AD, the first application of surnames was limited to Southern Germany. The entire German linguistic area only used surnames after 1350 AD as more community concentrated persons began settling close together, and required a clear distinction for each particular person. The use of surnames arose from the need for accurate records for the administration of state, church and municipality functions requiring an accurate person identifier…a surname apart from the given name. Surnames were hereditary and served also as the protector of hereditary requirements, which increased in need, not only for the aristocracy, but also for the middle class, tradesmen and the free peasantry. At first the surname of a family was changeable, if the carrier of a certain surname moved, changed his occupation or simply wanted to change his name - he could.
......A standard for an unchangeable surname was legally set in Saxonia, then introduced into Bavaria. The standard surname was adopted in Germany only around 1600.
In den Jahren zwischen 1000 und 1155/70 traten die ersten Nachnamen (Familiennamen) in Süddeutschland auf. Das gesamte deutsche Sprachgebiet verwendete Nachnamen erst nach 1350, nachdem sich größere Einwohnerzahlen konzentriert hatten und eine genauere Bezeichnung des einzelnen Bürgers erforderlich wurde. Der Gebrauch von Nachnamen nahm zu, weil korrekte Unterlagen für die staatliche Administration, die Kirchen und wegen öffentlicher Funktionen benötigt wurden. Die Nachnamen waren erblich. Sie sicherten auch erbliche Ansprüche, was nicht nur für den Adel, sondern auch für den Mittelstand, Kaufleute und für freie Bauern zunehmend Bedeutung gewann.

Anfangs war der Familienname noch veränderbar. Wenn der Träger eines sicheren Nachnamens wechselte, seinen Beruf änderte oder einfach nur seinen Namen verändern wollte, so konnte er das tun. Ein unveränderbarer Nachname wurde gesetzlich in Sachsen bestimmt, danach in Bayern. In ganz Deutschland findet er sich erst um etwa1600.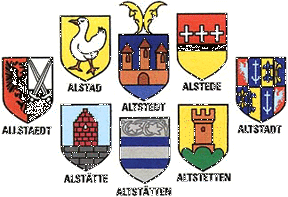 _________________________________
The Allstadt/Altstadt/Altstatt Clans