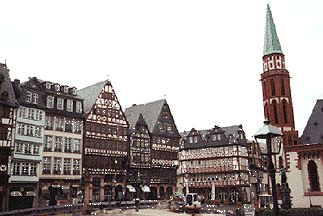 Johannes Daniel Altstadt
was born and died in Frankfurt, Germany.
Gerd Altstadt, his great-grandson was raised in his grandparents home as his mother died at an early age.
Because of the heavy bombing of Frankfurt during the Second World War, Gerd has not been able to find any history of the family previous to his great-grandfather.
Pictured is the Frankfurt Romer as it appears today.
Johannes Daniel Altstadt wurde in Frankfurt a.M. geboren, wo er auch starb. Gerd Altstadt, sein Urenkel, wuchs bei den Großeltern auf, weil seine Mutter in frühen Jahren verstarb.

Auf Grund der schweren Bombenangriffe auf Frankfurt während des Zeiten Weltkriegs war es Gerd nicht möglich, irgendwelche Dokumente der Familie aus der Zeit vor seinem Urgroßvater zu finden.

Abgebildet ist der Frankfurter Römer in der jetzigen Ansicht.
The Generations of Johannes Daniel Altstadt (1848)

1 Johann Daniel Altstadt, Apr.13,1848 - Jul.4,1904
... + Katharina Elisabeth Rumbler, Sep.25,1857 - Feb.23,1831
...... 2 Ferdinand Altstadt, Jan.23,1882 - Feb.4,1951
.......... + Clara Lauth, Jan.11,1887 - 1936
.............. 3 Ferdinand Altstadt, II,
.................. + - - - - - -,
.............. 3 Friedrich Altstadt,
.................. + - - - - - -,
.............. 3 Margarethe Altstadt,
.................. + - - - - - -,
...................... 4 Gerd Altstadt, Oct.23,1927 -
.......................... + Anna Bicker,
...... 2 Karl Altstadt, Feb.21,1884 - Nov.14,1949
.......... + Karoline Stöckel, Jan.18,1892 - Oct.11,1962
...... 2 Josefine Altstadt, 1885 -
.......... + - - - - - - -,
...... 2 Katharina Altstadt, Jul.13,1886 - Feb.23,1969
.......... + 1 W. W. Heyer,
.......... + 2 - - - - - - - Büdinger,
.............. 3 (Child) Heyer,
.............. 3 (Child) Heyer,