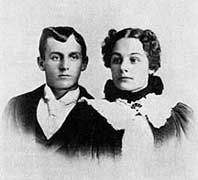 Valentine Altstatt
was born around 1795, in Grossenluder, Kreis, Fulda, Hessen, Germany. He married Margaret Yost around 1816.
Both his sons, Georg Altstatt and Johann Francis Altstatt immigrated to America. Francis immigrated in 1837, and George immigrated in 1839. Francis made his home first in Philadelphia and later moved to Pottsville, Pennsylvania. There, Francis met and married Elizabeth Lecher. Francis was a barber and banker by trade.
In the 1880s the sons of Francis and George moved westward in search of their fortunes. Francis' children moved to the Erie, Pennsylvania area while George's line moved to Breckenridge, Minnesota.
(Pictured at left are John George and Barbara Mathilda Altstatt, grandchildren of Georg Altstatt)

The Generations of Valentine Altstatt (1795)

1 Valentine Altstatt, c. 1795 -
... + Margaret Yost,
...... 2 George Altstatt, 1817 -
.......... + Mary E. - - - - -
..............Immigration from Grossenlüder, Hessen, to Pottsville, PA, in 1839
.............. 3 Mary Elizabeth Altstatt, 1847 -
.................. + Christ Mentzer,
...................... 4 Emily Catherine Menzer, 1893 -
.............. 3 John George Altstatt, Aug.1849 -
.................+ Maria Weat, Jun.1,1853 - Nov.16,1911
...................... 4 Francis J. Altstatt, Feb.17, 1877 - Aug 3, 1919
.......................... + Ellen Gertrude Reilly, Nov 19, 1874 - June 23, 1943
.............................. 5 Thelma Kathryn Altstatt, 1904 - Aug 3, 1943
.................................. + Norman Lawrence Gleason, 1903 -1965
...................................... 6 Norma Jean Gleason, 1928 -
........................................... + Howard Eugene Emerson, 1927 -
............................................... 7 Mary Ann Emerson, 1949 -
.................................................... + Robert Glenn Granahan, October 20, 1945 -
....................................................... 8 Caroline Bridget Granahan, Nov 19, 1981 -
...................................... 6 Jane Ann Gleason, 1930 -
........................................... + Joseph John Huff, 1931-
............................................... 7 Susanna Myrene Huff,1952 -
.................................................... + Dennis Carl Akam, 1952 -
....................................................... 8 Shawn Dennis Akam, 1971 -
............................................................+ Julie Terrill,
................................................................9 Brittani Akam, 1999 -
....................................................... 8 Shane Carl Akam, April 12, 1979 -
............................................... 7 Cheryl Jean Huff, 1960 -
.................................................... + 1 James Dillon,
....................................................... 8 J.J. Dillon, 1979 -
....................................................... 8 Andrea Dillon, 1980 -
.................................................... + 2 Tim McGrath,
....................................................... 8 Keith McGrath, 1991 -
............................................... 7 Mark Edward Huff, 1964 -
.................................................... + Dawn Nichols,
....................................................... 8 Stephanie Huff,
....................................................... 8 Heather Huff,
....................................................... 8 Dustin Huff,
...................................... 6 Betty Arlene Gleason, 1941 - 1968
........................................... + Walter Stutzman,
............................................... 7 Brian Paul Stutzman, 1964 - 1968
............................................... 7 Brenda Ann Stutzman, 1965 - 1968
............................................... 7 James Stutzman, 1967 -1968
.............................. 5 Edward Altstatt, Jul.24,1906 - Feb.1983
...................... 4 Bessie M. Altstatt, Nov.1879 -
.........................+ Louis Mogel,
...................... 4 James N. Altstatt, Mar.1886 -
.......................... + Sarah C. Gallager, 1889 -
.............. 3 Francis John Altstatt, Oct.10,1851 - Sep.3,1918
.................. + Carolina Heimbach, Sep.7,1857 - Aug.5,1916
...................... 4 John George Altstatt, Jan.11,1878 - Oct.19,1939
.......................... + Margaret Louise Brandhorst, 1878 - Apr.27,1957
.............................. 5 George Edwin Altstatt, Mar.10,1905 - Jun.1966
.................................. + Clara G. Gardner, Dec.21,1905 - Mar.31,1975
...................................... 6 George Francis Altstatt, Jan.20,1936 - Jan.30,2008
...................................... 6 John Edward Altstatt, Jan.20,1937 -
........................................... + Dorothy Susan James, Aug.9,1940 -
............................................... 7 Jessica Maryanne Altstatt, Apr.24,1967 -
............................................... 7 Alison Noel Altstatt, Dec.9,1970 -
................................................. + 1 Michael DePue
................................................. + 2 Joshua Hakanson
.................................................... 8 Ursula Ann Hakanson, Aug.25,2005 -
.................................................... 8 Oliver John Hakanson, Apr.2,2008 -
............................................... 7 Ann Amica Altstatt, Jul.30,1978 -
...................................... 6 Daniel James Altstatt, Oct.3,1939 -
.............................. 5 Orval R. Altstatt, Dec.26,1907 - Aug.9,1985
.................................. + Irene Egge, Mar.15,1914 - Jun.26,1983
...................................... 6 Richard Orval Altstatt, Sep.2,1934 -
........................................... + Shirley Kay Flennor, Apr.25,1938 -
............................................... 7 Chad Russell Altstatt, Aug.6,1963 -
............................................... 7 Ann Joel Altstatt, Jul.12,1966 -
............................................... 7 Amy Kay Altstatt, Mar.2,1971 -
...................................... 6 Gayle Altstatt, Feb.19,1936 -
........................................... + 1 Roy Erickson, Dec.12,1936 -
........................................... + 2 Jerry Scheiterlein, Apr.2,1936
............................................... 7 Tana Irene Erickson, Mar.20,1964 -
.............................. 5 Eleanor Louise Altstatt, Oct.19,1909 - Jun.1978
.................................. + Eugene McFarland, Sep.30,1919 - Mar.2,1996
...................... 4 Barbara Mathilda Altstatt, Oct.25,1879 - May 8,1922
.......................... + Francis Cornet Peabody, Jul.3,1875 - Sep.21,1948
.............................. 5 Robert H. Peabody, Jan.7,1905 -
.................................. + Carol A. Johnson, Apr.30,1906 -
...................................... 6 Roger D. Peabody, 1934 - 1986
........................................... + Margaret C. McMahon, 1939 -
............................................... 7 Stephanie J. Peabody, 1959 -
.................................................... + Robert W. Teepe, 1959 -
....................................................... 8 Michael R. Teepe, 1981 -
....................................................... 8 Pamela Jeanne Teepe, 1983 -
....................................................... 8 James Robert Teepe, 1984 -
............................................... 7 Jennifer J. Peabody, 1962 -
.................................................... + Glenn J. Bomicino, 1958 -
....................................................... 8 Anthony L. Bomicino, 1985 -
....................................................... 8 Vanessa L. Bomicino, 1988 -
...................................... 6 Stephen R. Peabody, 1936 -
........................................... + 1 Patricia J. Urick, 1944 -
........................................... + 2 Carolyn Gullickson,
........................................... + 3 Heather P. Davis,
............................................... 7 Leslie C. Peabody, 1967 -
.................................................... + Timothy Barrett,
.............................. 5 Arthur F. Peabody, Jan.23,1907 - Apr.7,1990
.................................. + 1 Ina E. Sargent, Sep.30,1907 - Dec.26,1981
.................................. + 2 Lois Carpender, Apr.24,1907 - Mar.17,1992
...................................... 6 Cynthia A. Peabody, 1933 -
........................................... + Everette Estes,
.............................. 5 Barbara Esther Carmel Peabody, Sep.4,1920 -
.................................. + Alfred L. Davis, May 24,1915 - Apr.22,1993
...................................... 6 Frederick N. Davis, 1943 -
........................................... + 1 Sheila P. Skrukrud, 1944 -
........................................... + 2 Rolline K. Haycraft, 1943 -
............................................... 7 Debra L. Davis,1, 1968 -
............................................... 7 Heather L. Davis,1, 1972 -
............................................... 7 Scott M. Davis,1, 1973 -
............................................... 7 Thomas L. Davis,2, 1980 -
...................................... 6 Thomas E. Davis, 1945 -
...........................................s.o. Laurae E. Engquist, * 1947 -
........................................... + 1 Kim M. Frank, 1958 -
............................................... 7 Kimberley K. Hustings,* 1970 -
.................................................... + Richard K. Schuman, 1958 -
....................................................... 8 Karyn L. Schumann, 1991 -
....................................................... 8 Kathleen M. Schumann, 1993 -
............................................... 7 Ashley M. Davis,1, 1984 -
............................................... 7 Shaun M. Davis,1, 1987 -
...................................... 6 Richard A. Davis, 1948 -
...................... 4 Charles Francis Altstatt, Mar.17,1881 - Apr.1,1968
.......................... + Alice Kathryn Simard, May 30,1885 - Apr.1,1968
.............................. 5 Barbara Alice Altstatt, Apr.21,1906 - Sep.8,1973
.................................. + Clarence A. Pappenfus, Sep.12,1906 - Sep.8,1973
...................................... 6 Greg Pappenfus, May 26,1937 -
........................................... + Joyce Lindig,
...................................... 6 Janice Pappenfus, (May 26,1937) (stillborn)
...................................... 6 Lynn Anne Pappenfus, Aug.6,1943 -
........................................... + Cyril Durrenberger,
...................................... 6 Gary Michael Pappenfus, Jul.15,1947 -
........................................... + Rebecca Ballingrud,
.............................. 5 Raymond Charles Altstatt, Jun.29,1909 -
.................................. + Frances (Shaw) Mullaney, Jul.16,1913 - Jul.18,1994
...................................... 6 Mary Alice Altstatt, Apr.13,1940 -
........................................... + Horst Abraham, Feb.24,1941 -
............................................... 7 Christopher Abraham, Mar.10,1970 -
............................................... 7 Alexis Abraham, Oct.30,1975 -
...................................... 6 Charles Raymond Altstatt, Nov.12,1941 -
........................................... + Margaret Hurley, Jul.20,1940 -
............................................... 7 Rosanne Altstatt, Apr.24,1969 -
............................................... 7 Aimee Altstatt, Apr.12,1972 -
............................................... 7 James Charles Altstatt, Jul.1,1973 -
............................................... 7 Daniel Altstatt, Aug.18,1977 -
............................................... 7 Anne Marie Altstatt, Oct.18,1978 -
...................................... 6 Arthur Paul Altstatt, Feb.16,1944 -
........................................... + Mary Klein, Sep.11,1945 -
............................................... 7 Kristina (Tina) Altstatt, Nov.14,1968 -
............................................... 7 Andrew J. Altstatt, Feb.20,1970 -
...................................... 6 Eugene James Altstatt, Jun.20,1945 -
........................................... + Marsha O'Rourke, Oct.14,1947 -
...................................... 6 Joseph Richard Altstatt, Jul.3,1950 -
........................................... + Mary Jean Moos, Sep.27,1947 -
............................................... 7 Adrian Altstatt, Sep.18,1978 -
............................................... 7 Benjamin Altstatt, Jan.26,1980 -
............................................... 7 Alex Altstatt, Aug.8,1981 -
...................................... 6 Janet Catherine Altstatt, Jul.3,1952 -
........................................... + James Gregg, May 18,1942 -
............................................... 7 Tara Catherine Gregg, Aug.6,1981 -
............................................... 7 Chad Gregg, Jun.27,1984 -
........................Twin to........... 7 Brian Gregg, Jun.27,1984 -
...................................... 6 Elizabeth Theresa Altstatt, Dec.27,1953 -
.............................. 5 Lucille Myrtle Altstatt, Oct.4,1910 -
.................................. + Larry B. Hunt,
.............................. 5 Harold Francis (Doc) Altstatt, Mar.1,1914 - Nov.24,1976
.................................. + Jenny Elaine Bottolfson, Apr.13,1916 -
...................................... 6 John Harold Altstatt, Dec.10,1942 -
........................................... + Beverly Kaye Sletten, Apr.1,1944 -
............................................... 7 Kathleen Elaine Altstatt, Sep.30,1966 -
............................................... 7 Julie Anne Altstatt, Apr.14,1970 -
...................................... 6 Steven Charles Altstatt, Aug.11,1949 -
.............................. 5 Janet Blanche Altstatt, Apr.14,1921 -
.................................. + Henry Heinsch,
...................................... 6 Kenneth Heinsch,
........................................... + - - - - - - -,
...................................... 6 Tom Heinsch,
........................................... + - - - - - - -,
...................... 4 Harry Altstatt, Jan.13,1883 - Apr.24,1889
...................... 4 May Theresa Altstatt, Aug.5,1892 -
.......................... + Oswald Crummack, Jun.8,1896 - Dec.11,1992
.............................. 5 Mae Crummack,
.............................. 5 Caroline Crummack,
.................................. + - - - - - - Bukketum,
.............................. 5 Rosemary Crummack,
.................................. + - - - - - - Whitlock,
.............. 3 Margaret Theresa Altstatt, 1854 -
.................. + Henry Krise,
.............. 3 Catherine Altstatt, 1858- ?

...... 2 Francis Altstatt, Dec.11,1819 - c. 1905
.......... + Elizabeth Lecher, Jan.1821 -
..............Immigration from Grossenlüder, Hessen, to Pottsville, PA, in 1839
.............. 3 Catherine Altstatt, Jul.1842 -
.............. 3 George Altstatt, Dec.1846 -
.................. + - - - - - - - Jones,
...................... 4 Mamie Altstatt, Dec.1886 -
.......................... + - - - - - - -,
.............. 3 Mary Altstatt, 1847 -
.................. + Emil Langguth,
.............. 3 Josephine Altstatt, 1851 -
.................. + John J. Murphy,
.............. 3 Margaret Altstatt, Jul.1852 -
.............. 3 Joseph Altstatt, 1857 - c. 1862
.............. 3 Amelia Altstatt, c 1861 -
.................. + A. T. Jones,