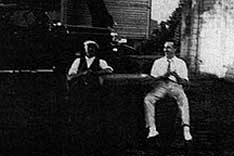 Otto Paul Altstadt
was born in Wiesenfeld, Hessen, Germany, in 1874. He was a railroad man before immigrating to the United States around 1903, with his wife, Henrietta, and three children.
Otto took a job as a clerk in New York City in order to support his family. The family later moved to the Chicago area.
Financially, the family did very well and Otto was able to buy out a drug store in Chicago. His sons, William Altstadt and Benjamin Altstadt, both pharmacists, ran the store.
(Pictured at left is Otto, wearing cap, and son, William)

The Generations of Otto Paul Altstadt (1874)

1 Otto Paul Altstadt, Jul.29,1874 - 1/13/1962
..............Immigrated from Weisenfeld, Hessen, Germany to New York, NY, c.1903
... + Henrietta Wrobel, Jun.25,1878 - Apr.25,1934
..............Immigrated from Königsberg, Germany to New York, NY, c.1905
..............(lived in Neufahrwassen, arrived 1911)
...... 2 Benjamin Wrobel Altstadt, Oct.1,1896 - Nov.21,1977 - adopted son of Henrietta from
......................previous marriage
.......... + Susan Visoky, Akug.24,1904 - Jul.1992
...... 2 William A. Altstadt, Nov.5,1898 - Oct.6,1964
.......... + 1 Virginia Wyman, 1905 - 1959
.......... + 2 Lisbeth (Betty) Joswig, Jun.21,1907 - Feb.6,1954
.......... + 3 Helen (Foley)Meyers, Mar.24,1922 - Jun.8,2002
.............. 3 Arthur William Altstadt,1, Dec.19,1924 -
.................. + 1 Colette Lundy, Mar.25,1924 - Nov.21,2011
...................... 4 Mae Altstadt, Jun.12,1955 -
.......................... + 1 Ken Streetz,
.......................... + 2 - - - - Feez,
.............................. 5 Jason Streetz,
.............................. 5 John Streetz,
.............................. 5 Jennifer Streetz,
...................... 4 John Arthur Altstadt, Sep.30,1957 -
.......................... + 1 - - - - - - -,
.......................... + 2 - - - - - - -,
.............................. 5 (Child) Altstadt,
.................................. + - - - - - - -,
.............................. 5 (Child) Altstadt,
.................................. + - - - - - - -,
.............. 3 Lowell Wyman Altstadt,1, Aug.8,1927 - 1950
.............. 3 Robert Earl Altstadt,2, Jul.16,1944 -
.................. + 1 Susan Jorosz,
.................. + 2 Karen Kerch Russell,
.................. + 3 Robin Hendrickson,
.............. 3 Audrey Lee Altstadt,3, Nov.16,1953 -
.................. + 1 Michael Ortiz,
...................... 4 Elizabeth Ortiz,
.............. 3 Patricia Altstadt,3,
.................. + - - - - - Nettelhorst,
...................... 4 Dawn Nettelhorst,
.......................... + - - - - - Tidd
...................... 4 Kim Nettelhorst,
.......................... + - - - - - Pakus,
.............. 3 Martin Emmett Altstadt,3, Jun.24,1956 -
.................. + 1 Nancy - - - - - - -,
.................. + 2 Kay - - - - - -,
...................... 4 Sara Altstadt,
.......................... + - - - - - - - ,
...................... 4 Jenny Altstadt,
.......................... + - - - - - - -,
...... 2 Irene Louise Altstadt, Nov.4,1900 - Jun.1987
.......... + 1 Charles Hans Mierisch c. 1892 -
.......... + 2 Earl Schilling,
.............. 3 Herbert Charles Miersch, May7,1923 - Feb.10,2003
.................. + 1 June - - - - - - -,
...................... 4 (Son) Miersch,
.......................... + 1 - - - - - - ,
.............................. 5 (Daughter) Miersch,
.................................. + - - - - - - - ,
...................................... 6 (Daughter)
...................................... 6 (Daughter)
.............................. 5 (Daughter) Miersch,
.................................. + - - - - - - - ,
...................................... 6 (Son)
...................................... 6 (Daughter)
.............................. 5 (Son) Miersch,
...................... 4 (Daughter) Miersch,
.......................... + 1 - - - - - - ,
.............................. 5 (Son)
.............................. 5 (Son)
...................... 4 (Daughter) Miersch,
.......................... + 1 - - - - - - ,
.............. 3 Gertrude Trudy Eleanor Miersch, May24,1921 - Feb.17,1989
.................. + Francis Winter, c.1921 - Feb.18,1975
...................... 4 (Daughter) Winter,
.......................... + 1 - - - - - -
...................... 4 Marsha Lee Winter, c.1952 - Nov.10,1971
...................... 4 (Son) Winter,
.......................... + 1 - - - - - -,
.............................. 5 (Daughter) Winter
...................... 4 (Daughter) Winter,
...................... 4 (Son) Winter,
.......................... + 1 - - - - - -,
.............................. 5 (Daughter) Winter,
.............................. 5 (Daughter) Winter,
...................... 4 (Daughter) Winter,
.......................... + 1 - - - - - -,
.............................. 5 (Daughter)
.............................. 5 (Son)
.............................. 5 (Daughter)
.............................. 5 (Son)
...................... 4 April Rae Winter, Apr.14,1982 - May11,1982
.............. 3 Charlotte A. Schilling (?), Aug.16,1918 - Aug.16,2010 (Adopted by Otto Altstadt)
.................. + 1 Elmer Moehling,
.................. + 2 - - - - - - - - Ott,
...................... 4 (Son) Moehling,
.......................... +
.............................. 5 (Daughter) ?
.............................. 5 (Son) ?
.............................. 5 (Son) ?
...................... 4 Charles Moehling, 1945 - Sep.1,2003
.......................... + - - - - - - - ,
.............................. 5 (Daughter) Moehling,
.................................. + - - - - - - - ,
...................................... 6 (Daughter)
.............................. 5 (Son) Moehling,
.................................. + - - - - - - - ,
...................................... 6 (Daughter) Moehling,
...................... 4 (Son) Ott,
.......................... + - - - - - - - ,
...... 2 Charlotta Altstadt, Nov.8,1908 - Sep.24,1914