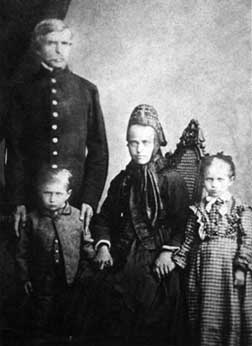 Johann Wilhelm Altstadt
was born in Marburg, Hessen, Germany around 1835. His first wife's name is unknown. His second wife was Christina Damm.
His son, Johann David Altstadt came to America alone when he was 13 years of age and stayed with his half-sister Sophia Meny's family in Buffalo , New York. There, Joseph Meny taught him the barber trade. Later, in Buffalo , he opened up his own shop. He later moved to Forrest, Illinois, and opened a barber shop there. In Forrest, he met and married Mary Kummer. Becoming unhappy with barbering, he became an engineer on the Wabash Railroad. After Mary died in 1894, he married her sister, Emma Kummer, in November 1895.
(At left: the family of Johann Wilhelm and Christina Damm Altstadt, with David and Elizabeth)

The Generations of Johann Wilhelm Altstadt (c.1835)

1 Johann Wilhelm Altstadt, c. 1835 - c.1878
... + 1 - - - - - - -,
... + 2 Christina Damm,
...... 2 Sophia Altstadt,1, c.1849 -
.......... + Joe Meny,
...... 2 Gertrude Altstadt,1, 1850 -
.......... + Henry Rudolph, 1850 -
.............. 3 Gurtrude Barbara Rudolph, Oct.11,1890 - Feb.1982
.................. + Oscar Benway,
...................... 4 (Child) Benway,
...................... 4 (Child) Benway,
...................... 4 (Child) Benway,
...................... 4 (Child) Benway,
...................... 4 (Child) Benway,
.............. 3 John Rudolph,
.............. 3 Sophia Rudolph, Feb.12,1884 - Apr.1963
...... 2 Eliza Altstadt,2, Jul.18,1864 - Nov.26,1963
.......... + Fred Klausecker, May 20,1868 - Nov.26,1952
................Immigration from Marburg, Germany to New York, NY,around 1880
.............. 3 Eugenia Maria Eliza Klausecker, Aug.11,1889 - Aug.4,1972
.................. + Arthur Herman Kreinberg, Jr., Nov.16,1882 - May 10,1916
...................... 4 Grant Arthur Fredrick Kreinberg, Feb.24,1912 - Jul.5,2000
.......................... + Grace Keitel, Jun.17,1910 -
.............................. 5 Grant Arthur Henry Kreinberg, Sep.15,1942 -
.................................. + Georgene Werner, Oct.4,1946 -
........................................6 Jennifer Ann Kreinberg, Sep.15,1968 -
...................... 4 Gladys Kreinberg, Sep.28,1914 -
.......................... + Herbert Montgomery Henninger,Sr,Feb.14,1910 - Aug.12,1990
.............................. 5 Herbert Henninger,Jr, Feb.3,1938 - Jul.14,1980
.................................. + Elizabeth Ann Rouse,Jan.25,1941,
.............................. 5 Carol Ann Henninger, Sept 11, 1939 -
.................................. + 1 Carl Ayers,May 15,1938 -
.................................. + 2 Tyrone Crowley,May31,1943 -
........................................6 Caren Ayers,Feb.24,1962 -
.........................................+ Michael Bradley Yarns, Jun.14,1962 -,
............................................ 7 Amanda Michelle Yarns, Aug.5,1989 -
............................................ 7 Amy Lynn Yarns, Jul.7,1992 -
.............. 3 Gertrude Klausecker, Oct.11,1890 -
.................. + Harry Reilly,
...................... 4 Curtis Reilly, ? - c.1940
...................... 4 Harry Reilly,
.......................... + Elaine - - - - - - -,
.............. 3 Fredrick Klausecker, May 30,1900 - Jun.21,1978
.................. + May - - - - - - -,
...................... 4 Gloria Klausecker,
.......................... + Wilson "Buddy" Morrison,
.............. 3 Mildred Klausecker, Feb.4,1907 - Mar.10,1998
...... 2 Johann David Altstadt,2, Nov.16,1866 - May 20,1949
.......... + 1 Mary Kummer, Aug.8,1867 - Jun.4,1894
.......... + 2 Emma Kummer, Dec.1871 - Dec.30,1944
...........................Immigration from Marburg, Germany to New York, NY,around 1879, then Buffalo, NY
....................................................and later to Livingston Co., IL, before 1888
.............. 3 Walter David Altstadt,1, Nov.27,1889 - 1960
.................. + Phrona King, 1887 - 1959
...................... 4 Mary Ellen Altstadt, Nov.27,1914 - Mar.1988
.............. 3 Alice Frieda Altstadt,1, Dec.19,1890 - Mar.1954
.................. + 1 Harry Perkins,
.................. + 2 Fred Ford,
.................. + 3 Harry Lucker,
.................. + 4 Jack Perkins, Jul.30,1919 -
.......................... + - - - - - - -,
.............................. 5 (Son) Perkins,
.............................. 5 (Son) Perkins,
.............. 3 Frederick William Altstadt,1, Jun.19,1893 - Jun.20,1970
.................. + Pearl Bower, 1900 - 1968
...................... 4 Lucille Altstadt, 1918 -
.......................... + - - - - - - -,
...................... 4 Fred William Altstadt, Jr. , Oct.22,1919 - Jun.19,1977
.......................... + Rosalie - - - - - - -,
...................... 4 Pauline Altstadt, c.1921 -
.......................... + - - - - - - -,
...................... 4 David W. Altstadt, Jul.9,1924 - Dec.1982
.......................... + 1 Pat Mahrings,
.......................... + 2 Charlene Anderson, Feb.8.1931 - Oct.8,2015 -
.............................. 5 David Altstadt, -
.................................. + - - - - - - -,
.............. 3 Albert Meny Altstadt,2, Aug.2,1896 - Jan.20,1967
.................. + Margaret Elizabeth Wurmnest, Apr.3,1895 - Dec.1958
...................... 4 Albert Meny Altstadt, Jr., Jan.4,1931 - Jul.25,1999
.......................... + Donna Croxdille, Feb.17,1931 -
.............................. 5 Leisa Margaret Altstadt, Jul.22,1960 -
.................................. + Steven West, Feb.16,1957
.............. 3 Gertrude Marian Altstadt,2, Oct.30,1898 - Nov.7,1967
.................. + Herbert Rudd, Dec.6,1889 - Oct.1969
...................... 4 Hannah Margaret Rudd, Oct.12,1921 -
.......................... + 1 Eddie Andes,
.......................... + 2 John Vogel,
...................... 4 Robert Rudd, Apr.1922 -
.......................... + - - - - - - -,
...................... 4 Herbert Rudd, Jan.4,1931 -
.......................... + Mavel - - - - - - -,
...................... 4 Harvey Rudd, Nov.12,1933 -
.............. 3 Harold George Altstadt,2, Jul.18,1900 - Apr.21,1968
.................. + 1 Blanche Stumpt,
.................. + 2 Anne - - - - - - -, Dec.27,1912 - Nov.1983
...................... 4 Jackie Altstadt, (Adopted)
.......................... + - - - - - - -,
.............. 3 Marjorie Emma Altstadt,2, Jun.28,1902 - Nov.23,1947
.................. + Paul Lyons Hatfield, May 8,1899 - Nov.1966
...................... 4 Mary Lou Hatfield, Sep.15,1928 - Apr.1997
.......................... + Millard Keith Hauge,
.............................. 5 Keith M. Hauge, 1949 -
.................................. + Nancy V. Householder,
.............................. 5 Marjorie E. Hauge, 1955 -
.................................. + Gerald C. Warehims,
.............................. 5 Karen E. Hauge, 1956 - 1957
.............................. 5 Kevin R. Hauge, 1958 -
.................................. + Kristin S. Gilow,
.............................. 5 Karter B. Hauge, 1961 -
.................................. + Fay M. T. Baker,
...................... 4 Patricia Jane Hatfield, Oct.24,1930 -
.......................... + Donald D. Harms, May 20,1930 -
.............................. 5 Deborah A. Harms, 1950 -
.................................. + Jon Gililand,
.............................. 5 Donald D. Harms, Jr, 1951 -
.................................. + Patti J. Lindelof,
.............................. 5 Lucinda K. Harms, 1952 -
.................................. + Robert Gregait,
.............................. 5 Bonnie J. Harms, 1955 -
.................................. + Steven Weger,
.............................. 5 Donna S. Harms, 1959 -
.................................. + Timothy Cross,
.............................. 5 Carol L. Harms, 1961 -
.................................. + David Waibel,
.............................. 5 Patrick J. Harms, 1965 -
.............................. 5 Bethel J. Harms, 1970 -
...................... 4 Marjorie Emma Hatfield, Dec.26,1939 -
.......................... + Milton Volling Scherf, Oct.30,1934 -
.............................. 5 Paul H. Scherf, 1958 -
.................................. + Denise Abbott,
.............................. 5 Melissa M. Scherf, 1959 -
.................................. + 1 Phillip D. Land,
.............................. 5 Peter H. Scherf, 1964 -
.................................. + Rhonda L. Chestnut,
.............. 3 Dorothy Laura Altstadt,2, Feb.11,1906 - Mar.3,1998
.................. + John H. Potts, May 19,1904 - May 2,1994
...................... 4 Jeanette Potts, Oct.1,1937 -
.......................... + W. Jack Hillend, Jan.11,1936 -
.............................. 5 John Hillend,
.............................. 5 Jamie Hillend,
.............................. 5 Jeanine Hillend,
.............................. 5 Julie Hillend,
.............................. 5 Jodi Hillend,
.............................. 5 Janet Hillend,
.............. 3 John David Altstadt , Jr.,2, Jun.28,1908 - May 28,1909