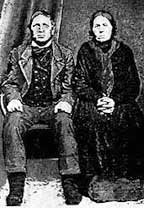 Georg Bernhardt Altstadt
was born around 1730 in Michelfeld, Baden, Germany. Most of the Altstadt immigrants to America from the Michelfeld area, along with their Michelfleld Altstadt descendant cousins, who still live in Germany, can trace their ancestry back to Bernhardt.
Bernard's grandson, Johann Heinrich Altstadt, married Katharina Seeburger and they had at least six children. Heinrich was a baker and family tradition states that - "when Heinrich called his apprentices early in the morning the whole village of Michelfeld woke up!"
Johann Georg Altstadt (pictured at left with his wife, Margaret), was a farmer in Michelfeld. His son, Fred Altstadt, immigrated to America, via Castle Garden, New York, in 1873, eventually settling in Nebraska.
Other Altstadt's of this line who immigrated to America were: Johann Michael Altstadt, Jacob Altstadt, Gottfried Altstadt, and William "Bismark" Altstadt, These families settled in either Portland, OR, Ackley, IA and Omaha, NE.


The Generations of Georg Bernhardt Altstadt (c.1730)

1. Johann Bernhardt Altstadt, Mar.4,1730 - Nov.19,1781
... + Margaretha Groß, (Gross)
...... 2 Catharina Elisabeth Altstadt, Nov.9,1756 - Dec.18,1756
...... 2 Catharina Elisabeth Altstadt, Feb.28,1757 - 1832
...... 2 Johann (Bernhard) Altstadt, Jul.31,1759 - Dec.18,1789
.......... + Susanne Schwendt,
.............. 3 Johann Heinrich Altstadt, Oct.30/31,1789 - Feb.24,1849
.................. + Katharina Dorothea Seeburger,
...................... 4 Christof Heinrich Altstadt, Oct.6,1816 - Jun.26,1875
.......................... + Friderike Merkel,
.............................. 5 Margarethe Friederike Altstadt, Dec.8,1843 - Jan.1,1844
.............................. 5 Balthasar Altstadt, Mar.8,1845 - Oct.3,1923
.............................. 5 Susanne Altstadt, Nov.18,1846 - Jul.17,1903
.................................. + Jakob Brust,
.............................. 5 Jakob Heinrich Altstadt, Feb.10,1851 - Jun.11,1913
.................................. + Regina Brust,
..........Twin to....... 5 Susanne Margarethe Altstadt, Feb.10,1851 - Aug.1,1869

................................Generation 6 to Current Lineage of Christof Altstadt German families see
................................Familes in Germany - Georg Bernhardt Altstadt

...................... 4 Anna Margarethe Susanne Altstadt, Mar.28,1823 - Jan.20,1899
.......................... + Johann Michael Gaßmann, (Gassmann)
...................... 4 Katharina Altstadt, Nov.29,1824 - May 25,1900
.......................... + Johann Georg Seburger,
...................... 4 Georg Johann Altstadt, Apr,1,1828 - Dec.1,1901
.......................... + Friederike Bender,
.............................. 5 Margaretha Altstadt, Oct.26,1856 - Aug.7,1900
.............................. 5 Susanne Altstadt, Jul.28,1860 - ?
.................................. + Philipp Leichle,
.............................. 5 Johann Georg Altstadt, May 12,1866 - May 17,1950
.................................. + Christiane Bender,

................................Generation 6 to Current Lineage of Georg Johann Altstadt German
................................families see Familes in Germany - Georg Bernhardt Altstadt


...................... 4 Johann Jakob Altstadt, Jan.22,1831 - Apr.21,1875
.......................... + Christine Magdalena Weigel,
.............................. 5 Johann Michael Altstadt, Feb.11,1863 - Jul.27,1936
.................................. + Katharina Vogel, May 16,1872 - Oct.19,1933
..............Immigrated to America c.1890 from Michelfeld, Baden Württemberg, Germany
...................................... 6 Frederike (Frieda) Christina Altstadt, Aug.5,1896 - 1977
........................................... + Ernest Aplanalp, Mar.30,1895 - Jun.1982
...................................... 6 George Johann Altstadt, Jan.21,1898 - Mar.1983
........................................... + Irene Brix, Mar.28,1904 - Dec.1984
............................................... 7. John Brix Altstadt, Dec.8,1930 - Aug.26,2013
.................................................... + 1 Mary Louise Altstadt Feb.20,1931 - May2,2015
.................................................... + 1 Sue Anderton, Jul.13, 1933 -
....................................................... 8 Louise Helen Altstadt, Jan.7,1962 -
........................................................... + Garth Hallman,
............................................................... 9 John Austin Hallman,
............................................................... 9 Hadlee Irene Hallman,
....................................................... 8 John "Jack" Austin Altstadt, Jun.8,1966 -
...................................... 6 Herbert Alfred Altstadt, Apr.27,1904 - Sep.4,1982
........................................... + Helen Louise Krupke, Jul.16,1903 - Nov.1979
............................................... 7. Robert William Altstadt, Mar.4,1932 -Jun.15,2005
.................................................... + Martha Ann Miller, Sep.12,1931 - Apr.10,2011
....................................................... 8 Mary Virginia Altstadt, Aug.25,1960 -
........................................................... + 1 Robert LaRock,
........................................................... + 2 Kevin Deppa,
............................................................... 9 Robert Quentin LaRock, Dec.23,1985 -
............................................................... 9 Andrew Deppa, -
....................................................... 8 Susan Marie Altstadt, Jul.16,1961 -
........................................................... + 1 Richard Barrows,
............................................................... 9 Katherine Barrows,
............................................................... 9 Charles Marion Barrows, May 25,1993 -
....................................................... 8 Paul William Altstadt, Sep.17,1962 -
........................................................... + Vicky E. Newman,
............................................................... 9 Jeremy Robert Altstadt, Jul.1992 -
....................................................... 8 Elizabeth Ann Altstadt, Jul.3,1965 -
........................................................... + Eric Moore,
....................................................... 8 Roberta Jo Altstadt, Sep.5,1966 -
...................................... 6 Ruth Katharina Altstadt, Jul.30,1909 - May 1991
........................................... + Clarence Earl Carlson, Jul.21,1897 - Jun.1966
............................................... 7. Sandra Lynn Carlson, Nov.8,1943 - (Adopted)
.............................. 5 Christine Katharina Altstadt, Apr.23,1864 - Apr.3,1940
.................................. + Jakob Bender,
.............................. 5 Friedrich Altstadt, Mar.12,1871 - Jun.15,1951
.................................. + Elise Körn,

................................Generation 6 to Current Lineage of Fredrich Altstadt German
................................families see Familes in Germany - Georg Bernhardt Altstadt

...................... 4 Johann Heinrich (Georg?) Altstadt, Dec.10,1825 - Dec.15,1903
.......................... + + Margaretha Rudisyhle (Rudisole),
.............................. 5 Friedrike Altstadt, Jun.8,1852 - ?
.................................. + - - - - - -,
.............................. 5 Margarethe Susanne Altstadt, Feb.8,1855 - Oct.22,1916
.................................. + Johann Horch,
.............................. 5 Johann Frederich Altstadt, Jun.23,1856 - Dec.18,1924
.................................. + Emelia Ruggow, Dec.27,1867 - Feb.18,1924


..............Immigrated on ship SS Donau from Bremen, GR, to Castle Garden,
..............New York on January 18, 1873, from Michelfeld, Baden Württemberg, Germany


...................................... 6 John Leonard Altstadt, Apr.12,1886 - Apr.1974
.......................................... + Clara Coleman, Jul.28,1890 - Nov.1971
.............................................. 7 Velma Altstadt, Jan.24,1912 - Sep.29,1999
................................................... + John Mitchell, 1907 - 1995
....................................................... 8 Dr. Jerry Mitchell,
....................................................... 8 Douglas Mitchell,
.............................................. 7 Irene Altstadt, Mar.26,1913 - Jan.17,1990
................................................... + 1 Arvin Carrier,
................................................... + 2 Bob Nielson,
....................................................... 8 Beverly Carrier
....................................................... 8 Douglas Carrier
.............................................. 7 Bernice Altstadt, Aug.12,1917 -
................................................... + Charles Sands, Aug.4,1904 - Feb.4,1977
....................................................... 8 Robert Sands,
.............................................. 7 Clifford Altstadt, Feb.25,1921 -
................................................... + Ione Bartel, Aug.7,1918 - Jun.24,1996
....................................................... 8 Judith Katherine Altstadt, Dec.16,1944 -
............................................................ + 1 Gary L. Johnston, Jun.15,1941 - Jun.13,1984
............................................................ + 2 Norman Herbel,
............................................................... 9 Timothy Clifford Johnston, Nov.16, 1968 -
................................................................... + Linda - - - - - - -,
............................................................... 9 Thomas Gary Johnston, Feb.21,1971
................................................................... + Jolene - - - - - - -,
............................................................... 9 Beth Anne Johnston, Oct.14,1978
....................................................... 8 Arlene Vivian Altstadt, Sep.27,1946 -
............................................................ + John W. Dennis,
............................................................... 9 Brenda Renee Dennis, Nov.14,1969 -
............................................................... 9 Brian John Dennis, Jun.20,1971 -
................................................................... + Vikki - - - - - - -,
....................................................................... 10 Brandyn Dennis, 1991 -
.............................................. 7 Fern Altstadt, May 18,1922 - Nov.20,1987
................................................... + Gailon Baker,
....................................................... 8 Gayle Baker,
....................................................... 8 Darrell Baker,
.............................................. 7 Kenneth Jerome Altstadt, Apri.19,1929 -
................................................... + Phyllis Lorena Gray, Apr.14,1930 -
....................................................... 8 Gary Dean Altstadt, Nov.21,1954 -
............................................................ + 1 Nancy Kane Brenden, Feb.20,1956 -
............................................................... 9 Dustin Dean Altstadt, May 29,1975 -
............................................................... 9 Gina ReNea Altstadt, Feb.28,1977 -
....................................................... 8 Allen Lynn Altstadt, Nov.17,1957 -
............................................................ + 1 Melcina Boettger,
............................................................ + 2 Bonnie Barritt, Oct.20,1951 -
....................................................... 8 Darold Kent Altstadt, Jan.7,1960 -
.............................................. 7 Wilda Jean Altstadt, Apr.30,1925 - Sep.11,1927
.............................................. 7 Verona Altstadt, May 2,1930 -
................................................... + Bill Whitsett,
....................................................... 8 Stanley Whitsett,
....................................................... 8 Cheryl Whitsett,
...................................... 6 Margaret Kathryn Altstadt, Nov.28,1887 - Sep.6,1980
.......................................... + Adolph Warnstedt, Apr.3,1895 - Mar.3,1974
.............................................. 7 Ruth Adele Warnstedt, Jul.12,1920 - Oct.28,1962
................................................... + Marvin George Marquardt, Mar.8,1920 -
....................................................... 8 David D. Marquart, May 5,1947 -
............................................................ + Mary R. Boltz, Oct.19,1946 -
............................................................... 9 Winfred R. Marquart, 1976 -
............................................................... 9 Patrick D. Marquart, 1979 -
.............................................. 7 Donna Margaret Warnstedt, Mar.19-1926 -
................................................... + Allan Gaylord Westphalen, Jan.3,1929 - Oct.24,2008
....................................................... 8 Jeffrey A. Westphalen, Feb.8,1949 -
............................................................ + Esther A. Schot, May 23,1955 -
....................................................... 8 Peggy R. Westphalen, Mar.15,1953 -